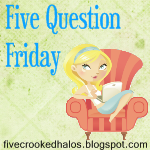 1.
Would you go to your high school reunion?
I don't think I would, it would be fun to see everyone, but really, how much do you not see on facebook now? I kind of wish people didn't use it so much for information so we'd be forced to be in each other's presence.
2.
What's something that you've recently splurged on; either for yourself or someone else?
With our tax refund we decided we've sat too long on very old furniture, that we could finally buy our own and that's what we were going to do! I'm very happy with the new matchy-matchiness!
3.
How do you handle your child's fever?
No children, but when my husband or I start to get sick I always call on my BFF (who just happens to be nurse), she always knows what to do lol.
4.
What's the nicest thing to happen to you lately?
We have some patients (pets) at our (animal) hospital that have to have weekly fluid therapy. One of the owners that came today said she only wanted me handling her pet because she was so happy with the way he was handled in my care. No one ever hates bragged on. :)
5. What is your current favorite song?
That's hard because I always have so many at once, but right now I think it would have to be "My Hope is in You" by Aaron Shust. It's kind of old, but I found it again recently and it stays in the cd player in my car right now!