Ahhh, Time to start 5QF again! I'm so glad the holidays are gone and it's time to try and relax! We had a great Christmas and New Year, though, and spent them with friends and family. There's a busy couple of weekends coming up with baby showers and a youth trip with the church, but overall I'm excited for this year and the future to come!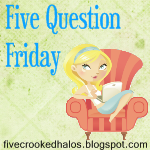 1.

Have you set any goals/resolutions for 2013?
Yes! I'm really excited about this one! I've never really set a resolution before, not a realistic one anyway. This year I'm going to start working out with my best friend and we're going to loose weight and get healthy together! I think it's always easier to reach hard goals with other people beside you, so I have great perspective about this. I'm going to start finding some healthier recipes for snacks and dinner too, so if I find some great one's I'll be sure to post them.
2.
Have you made any travel/vacation plans for 2013?
Well, we'll definitely be making a trip to the beach after we loose a little weight lol. We are trying to plan on going to Dragoncon in Atlanta in August. If you didn't see our Halloween costumes from a couple of years ago, we were the X-Men... and we loved it!
3.
What room is never cleaned in your house?
It's almost a tie between two rooms, but I guess the office. There's so many computer things in there from my hubby trying to fix lap tops, and there is a LOT of my craft stuff... Everywhere. HAHA! It's just hard to keep so many little things organized and put away all the time.
4. W
hat food must be in your house at all times?
Ummmm.. Cereal I think. I love honey bunches of oats and I don't feel bad about eating it for a snack lol. If my hubby was answering, he'd probably say fruit, though.
5.
Are you a hugger or more of a hands off person?
A hugger. That's everyone in my family. I don't think I'd just walk up and hug a stranger, but I definitely don't care about hugging. :)