I have some fantastic news this Friday! I finally got my dream job! I start at the Animal Hospital next week and I could not be more excited. I'm going to still find time for my blogging, but it will be put on the back burner some because i'll be going full time. I still love you guys tho and will still be checking in often!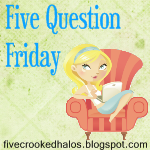 1. Thunder storms- love them or hate them?
I have two sides to this. I like storms sort of because it kind of slows things down, makes me feel like I could sleep longer.. and I do love my sleep lol. I HATE thunder though. It like shocks me to the core, especially when it's the loud, shake the house kind! :/
2. Do your kids get back to school clothes
I don't have kids, but my mom usually tried to get some back to school clothes for me. Especially when I was younger, you hit those growth spurts and you don't fit the clothes from last year anymore anyway lol.
3. Do you golf? Do you watch it?
I do! I'm not so good at the course, but I LOVE a driving range, takes the steam off sometimes. As for watching it, my Gpa does and it make me want to take a weekend nap until it's over!
4. Showers or baths?
I take showers. It's quicker and I feel cleaner, but if I had a hot tub... I'd be in that thing every night!
5. What's the strangest meal you ever ate?
This is hard.. I guess sushi? It's not that weird, but I'm not so adventurous on eating things so I guess raw fish would do it for me lol.