I just realized today that we're over half way to Christmas and it scared me to death.... Why would anyone think of this in July.. Maybe It's because stupid Hobby Lobby puts their Xmas decorations out in JUNE?!? Ugh why send me down that panic-y, broke road this early? lol I need some more Fruity Summer Cocktails!!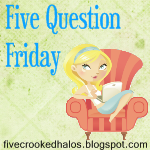 1. What is the funniest thing you saw on Facebook/twitter this week?
It was definitely this picture one of my BFFs found and posted on my wall.... I almost fell out haha
It's Matthew Mcconaughey
HAHAHA I thought it was the coolest thing ever lol Everything on this girl's blog (Craftyiscool.com) is AMAZING! If you have a little crafty/geek in you, you'll love it!
2. What is your favorite Olympic event?
I really never watch any of the Summer games, and to be honest the only one that comes to mind is swimming, but I just like it because I used to be on a swim team. :)
I REALLY LOVE to watch the ice skating in the Winter games!
3. Do your kids to chores around the house? If so, what are they and how old are the children? Do they get paid for them?
I don't have kids, but when I was younger, my mom had me do chores like wash the dishes and vacuum when I was about 10? And I started doing my own laundry when I was in High School. And I never got paid, they were my contribution to the household lol.
4. If you get bad service/food do you complain or keep quiet?
Oh somebody will know. If it's just a wrong cooked steak or something like that, it's not that big of a deal, but If there is anything just wrong with my food, it will be sent back. And I try not to complain about people's service, but that's what the tip reflects..
5. If you could pick ONE frivolous item for your home, what would it be? (massive room sized closet? swimming pool? greenhouse? etc...)
I would have a hot tub/giant Jacuzzi in a master bathroom! I would love a pool, but I think I would get the most use out of hot bubbly water everyday after work!