It's here again! Tonight is one of my best friend's brother's graduation and I'm excited to celebrate with them! Then, tomorrow My family is having a
GIGANTIC
BBQ for memorial day and it's going to be a blast!! What's not going to be fun is my hubby leaving for 4 days afterward to go on a man trip to the beach. Guess I'll have to lay by the pool all day and get my hair did lol.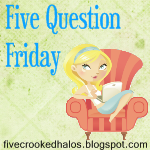 Not really. I do sometimes when I have to wake up suuuper early, but most of the time when I take naps, it gives me this awful headache that I can't get rid of.
2.
What was your favorite subject in school? Most hated?
Oh yes, everyone hates this answer, but I LOVED Math! I am a total Math nerd! and I hateedddddd History! I only had one teacher in History who ever taught it where I understood everything in college. Oh, and of course I loved Band, too, but that's not really a subject lol.
3. D
id you have the something old new borrowed and blue at your wedding? What were they?
I tried. My new was my dress and shoes and everything. Old was my great grandmother's broach on my bouquet. Blue was a blue butterfly ring my mother gave me... and I don't think I ever borrowed anything, but I don't really like to borrow stuff haha.
4. W
hat one thing are you determined to do this summer
Just relax. I don't really have anything to do except figure out where we're taking our anniversary vacation in July, so the rest of the time I don't want to be stressed!
5. Ice cream or Popsicles?
Depends on what kind. Most of the time Ice Cream! But If they're banana popsicles, I'm grabbing them! I love banana anything! I wish someone made a banana pudding ice cream with graham cracker in it... I should invent that!