Friday is here and tomorrow I'm off to the beach and to 'Nawlins!! Yay! I've been pretty sickly this week.. I tried to quit caffeine and that was a TOTAL fail, Migraines galore! Then I caught a stomach virus which lasted all day, and now I just feel lethargic.. or found an excuse not to do anythings hahaha no, I still cleaned the house this week. So anyway, off to my last 5QF so I can have some R&R!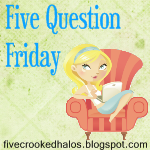 1.
What did you wear to prom? Include a picture if possible.
Well I didn't go to my Senior prom, but at my Jr prom, I wore a strapless A-line black gown with rhinestones on the top... Let me see if I can find this picture... And block someone else out of it! lol This is the only one I could find, I think my mom has all the rest of them.
2.
Would you rather be on the biggest loser or a food eating challenge?
Hmm.. This is hard. I probably need to be on biggest loser, but I have a very giant love for food, mostly the sweet kind! I would go on biggest loser for someone to motivate me... maybe. haha
3. F
ave sonic drink? Refreshing summer drink?
My favorite Sonic drink is the Strawberry Real Fruit Smoothy! I order it every time! But My favorite drink every other time is sweet tea or Code Red Mtn Dew.
4.
What was your first car, and what did you call it?
Ugh, I don't want to have to remember it! My first car was a Chevy Corsica when I was 16. It was gray, the tires always had a leak, the a/c didn't work, and I had to start it [during hot band camp] with a wrench in the hood because it only had two teeth on the fly wheel. Needless to say I learned how to work on cars that summer..
It basically looked just like this one I googled lol
5.
What's one thing your child or spouse does that sends you over the edge?
Aw man, he's going to kill me for this because he reads my blog hahaha. It kills me when he is trying to ask me "what do you lack," but instead he says "what do you like".. I don't really get mad lol I'm just like "What did you say??" Then we both laugh. I think he picked it up from someone else in his family, we are very southern down here lol. I have my "aint's" and things, but sometimes other people down here go so far I can't understand what they're asking me...
Example: I was at work, and this man came in asking for some "Tire".... I said ummm we don't sell tires here sir, he said, "No, girl (which infuriates me!), I need some "T I R E".... then I just go get someone else, to find out he's asking for roofing tar..... ugh, smh.