It's here again, 5QF with
Five Crooked Halos
! I can't believe how this week went by so fast! Me and my hubby worked a lot this week, and Thursday we took our weekly trip to my grandpa's house in the country to help him out with things around the house. One of the things we did was move a lot of cinder blocks across the pasture... We had a little too much fun with it lol.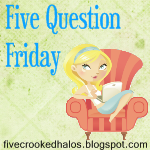 1. Groceries are high right now what is easiest way you have found to cut back?
We already pretty much buy everything off brand, especially at wal-mart, but both of our grandparents also can food or have laying hens and give us things like that so we don't have to buy a lot of eggs or preserves.
2. What are the top 3 things on your "bucket list"?
I really want to go to the Bahamas, or Jamaica, some exotic beach. Skydive, but with an expert strapped to me, I don't wanna go in alone! Get paid to play music.
3. Would you rather give up AC or heat?
Probably heat. I know everyone says you can always put on more clothes or bundle up, but I just HATE to be hot and sweaty. We went two summers with on and off broken AC and I was Miserable!
4. What's your favorite cocktail??
I don't really have a favorite cocktail because we don't really drink very often. We do have a favorite wine, Moscato D'asti.
5. What was your first job & how old were you?
My first job was at Olan Mills and I was 17. I was mostly the package seller and handled the register, but I took over some days as the photographer when we needed help.