I love going to blog parties and getting to see what everyone's up to and creating, but I found this blog hop today on
My Little Life
and I love this idea! It's almost like those thousands of myspace surveys I used to do back in the day lol.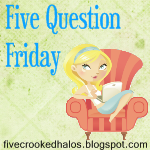 1.
Would you prefer having people over for dinner or going to their house?
I love having people over. I don't know what it is, the hostess coming out in me I guess? I like getting to serve the food and show off my home repairs haha.
2. Favorite Bible verse and why?
This is a hard one, but I think it would have to be Psalm 23:4

"
Yea, though I walk through the valley of the shadow of death,
I will fear no evil;
For You
are
with me;
Your rod and Your staff, they comfort me."
I remember this verse every time I get in a tight spot, any time I know there is trouble ahead, I know not to fear, that He holds my hand.
3. What was the first concert you ever attended, and the most recent one?
The first concert I went to alone was Incubus when I was 14. My mom says my first real concert was the Foo Fighters when I was about 7... but I can't remember it :(
My most recent one was a couple of years ago at the Crawfish Boil in Birmingham, AL. We watched Shinedown, Filter, and one of my favorites, Everclear!
ps..I am SUPER excited about my next one coming up in May, Finally getting to see the Foo Fighters and take in all their glory!! :D
4. The year is 2025. What are you doing, and what have you done?
Hopefully I'll be in a little bit bigger home, more into the country, might have a kid. As far as what I've done, I don't know yet, but I know i'll still have my family there to back me up through it all!
5. What's your favorite Easter treat?
Definitely Peeps! I can't get enough of those little fluffy sugary balls of yum! haha especially the little purple bunnies, because they're my favorite color!