I'm so excited... One more week and I'll be in NOLA seeing the Foo Fighters!! I've got a lot to finish before I leave so I don't leave the blog in the dust haha.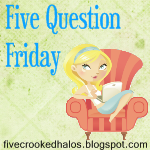 1. Do you make your kids finish all the food on their plates?
I don't have children yet, but If I did, I would probably be like my mom was. I wasn't required to finish all the food on my plate, but I did have to eat as much as I could. I wasn't very picky as a kid, tho, so I wasn't that difficult.
2. Do you give an allowance?
Again, no kids, but the only way I see giving an allowance is ok is if they earn it with chores and other things, I don't believe a child should just constantly be given money for no reason.
3. Do you actually park your car in the garage?
We don't have a garage in this house, but if we did, I would so use it all the time! We do have a carport and I park the car in it everyday... that's close.
4. What is one food you will NEVER cook?
Asparagus. I hate everything about asparagus and my husband doesn't like it either so I will thankfully NEVER have to cook it!!
5. Do you have anything exciting planned for the summer?
Not yet, our anniversary is in the summer, so we'll probably have something planned, I'm just not sure what yet. I really want to take the hubs to Virginia soon to see the E.A. Poe museum!