I had a rather productive week! Finished my back deck project, almost through with my "Help me landscape" First steps, and updated my MP3 player with some new stuff. including my latest obsession
Gotye-Somebody that I used to know
! If you havn't heard it, it's amazing and is stuck in my head 24/7! Anyway, let's get to the questions!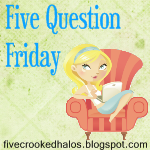 1. Who mows your grass?
My sweet hubby mows our grass! We have a small yard so it doesn't take a long time, but he gets so frustrated with our push mower having problems lol. One of our best friends gave him an older riding mower, but its hard to use in our tiny yard.
2. Do you have a picture wall or picture gallery in your house (show us! <--- my addition to the question)?
My WHOLE house is one really! I have a picture on like Every wall! lol But I do have one wall above the couch that I really love!
I'll have to do a tut later on my puppy silhouettes! :)
3. What book has influenced your thinking the most? Or, what blog? (I want to read what gets people thinking!)
I think the obvious answer is the Bible? But I really don't have a certain book or blog, it's more like a certain person. My aunt Melissa is the most crafty and unbelievable person I've ever known! Everything she does is like amazing, I don't know where she comes up with it, and she cooks so good she could have her own restaurant. Sorry I kind of steered away from the actual question lol.
4. Do you have allergies? If so, how do you handle it this time of year?
YES! Down here in North Alabama, This whole place is an allergy black hole! My defense system is Claritin and Nasal Spray! I keep it on hand every season change! lol
5. What's your go to meal to cook in an hurry?
Grilled Cheese hahaha. But really, If I don't have anything thawed and we're hungry for something, my husband will make these Amazing grilled cheeses and I'll usually get some soup out. Easy and fast!